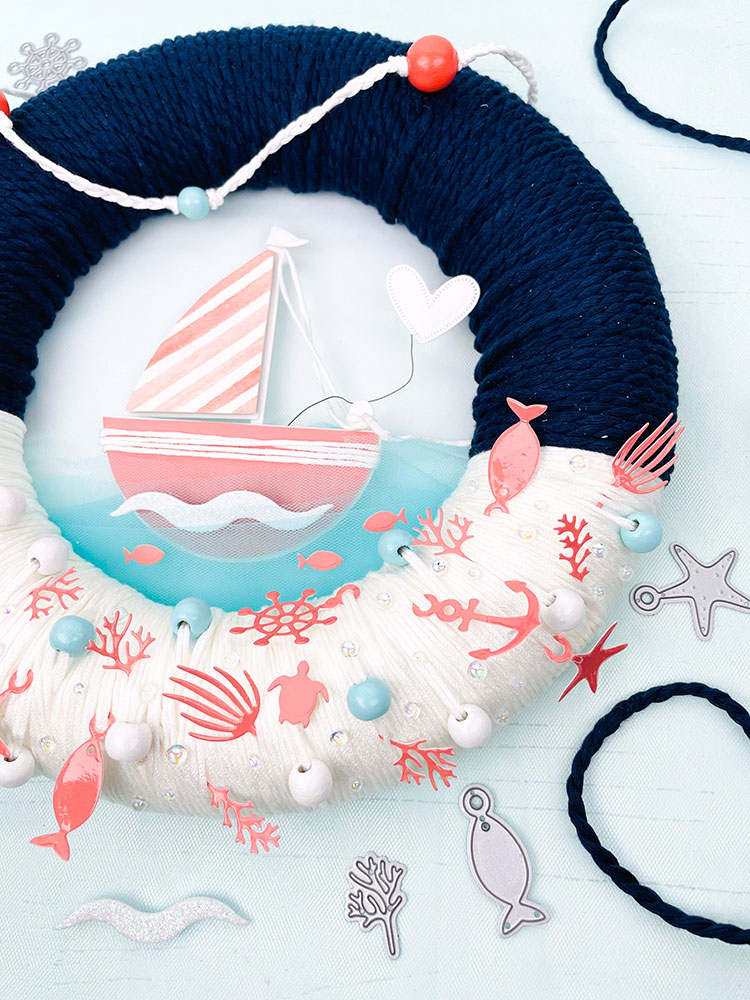 Hello all my creative friends!
Wellcome back to Modascrap's blog!
I love Wreath and I wanted to try to make my first sea wreath with this amazing summer collection.
I took a polystyrene wreath with an outer diameter of 25 cm and an inner diameter of 15 cm. I covered the upper part (more than half) with blue cotton rope.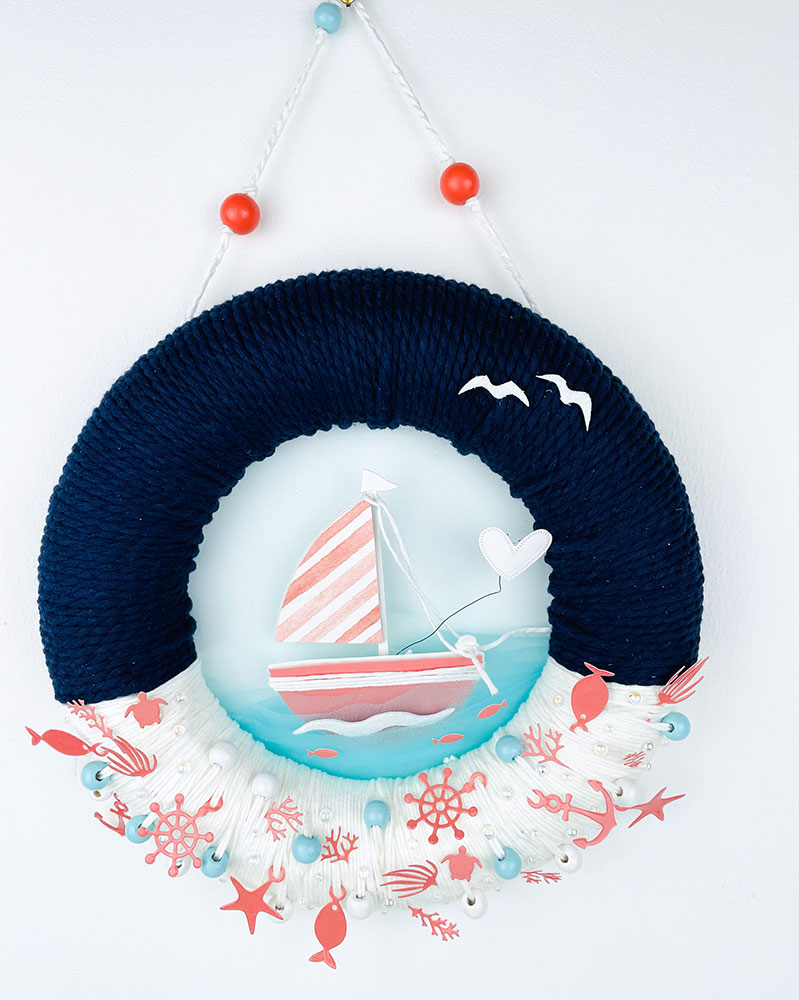 With the dies set *sea charms* and the double-side *pastel coral* I cut the decorative elements on which I applied glossy accents to make them brighter and stronger.
Once dried, I took some white and tiffany wooden beads and all the elements with the hole (the fish, the rudder, the starfish and the anchor) and inserted them into the white cotton thread. Then I covered the lower part of my wreath.
I added the small corals, turtles and *transparent pearls* with glue.
To create the sea and the sky I used tiffany tulle: for the sea I used several layers so that it looks darker than the sky.
When I got the effect I wanted, I attached it with pins in the back.
I made a braid with the white cotton thread and some wooden beads and I
glued it to the back at the top (I'll use it to hang the wreath on the wall)
With white *woodstock* and a compass I cut out a circle 23 cm in diameter which I glued behind with hot glue to hide the tulle and the braid for hanging.
The central subject, the boat, was made with the dies set *cute boat*, the double-sided pastel coral, the *wooden colours 4* and the white woodstock.
I profiled the coloured parts by a few mm and applied them to the white ones with the thick double-sided adhesive tape to create a small outer border and give the boat more three-dimensionality.
Finally, with the *dashing hearts* dies set I cut the smaller heart and joined it to the hull with very thin wire…
My message is:
If my heart fells happy and calm even in the middle of the sea, in unknown places and among unknown people… it means I'm with Friends.
Happy crafting!!!!!!!
Marika
Used materials
https://www.modascrap.it/products/modascrap-fustella-sea-charms
https://www.modascrap.it/products/modascrap-pastel-coral-double-face-kit-20-pz
https://www.modascrap.it/products/modascrap-semi-pearls-clear
https://www.modascrap.it/products/modascrap-cartoncino-woodstock-bianca-kit-20-pz
https://www.modascrap.it/products/modascrap-fustella-cute-boat
https://www.modascrap.it/products/modascrap-wooden-colors-04-double-face-kit-20-pz
https://www.modascrap.it/products/modascrap-fustella-dashing-hearts